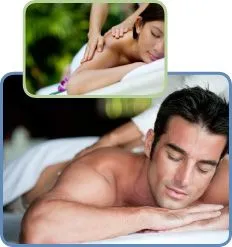 Massage Therapy is one of the oldest and simplest forms of therapy, providing a considerable range of therapeutic benefits. Because of its remarkable ability to relieve tension, increase circulation, and reduce pain and swelling, therapeutic massage can be a powerful ally in recovering from your injury and returning you to your pre-injury level of health and activity.
Massage works on the soft tissues (muscles, tendons, and ligaments) to improve muscle tone. Although it largely affects those muscles just under the skin, the benefits reach the deeper layers of muscle.
Grayson Chiropractic Associates is pleased to provide our patients with the finest in massage therapy. Grayson Chiropractic is associated with many professional massage therapists and will make specific referrals to reach our patients goals.

Our Massage Therapists specialize in the treatment of:
Painful or tight muscles
Releasing tension
Headaches/Migraines
Back Pain
Neck, shoulder, and arm pain
Sciatic pain
Fibromyalgia
Arthritis pain
Carpal Tunnel Syndrome
Circulation
Breathing
The Effects of Massage
The effects of massage are cumulative; therefore a series of treatments will provide the most benefits. Regular massage treatments can have the effect of strengthening and toning the entire body, and to help prevent unnecessary strains and injuries that might occur otherwise due to excess tension. Massage can stimulate or calm the nervous system depending what is required by the individual, thus helping reducing fatigue and increase the feeling of renewed energy.