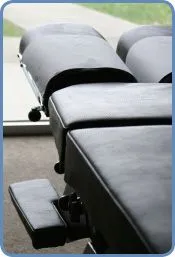 You don't have to live in debilitating pain. Whether you have lower back pain, a pinched nerve, sciatica, neck pain, or a variety of symptoms related to damaged or degenerative discs, as well as syndromes of the lumbar and cervical spine, Flexion/Distraction Therapy may be for you.
Flexion/Distraction therapy is an excellent technique for the treatment of middle and low back pain. This gentle, non-surgical therapy is the treatment of choice for those patients suffering with back pain and should be considered for those whose pain has not responded to other types of care.
Our treatments are comfortable and performed on a fully adjustable ergonomic table that can be fit to all body types including pregnant woman. This specialized table gently distracts or stretches the spine and which allows our doctors to isolate the area of disc involvement while slightly flexing the spine in a pumping rhythm. This pumping action also increases vital circulation to the damaged, painful areas of the lower back thus stimulating your body's natural healing process. The result is resolution of back pain without drugs or surgery.
There is no pain involved in Flexion/Distraction therapy. Our patients find this therapy surprisingly pleasant - with some even falling asleep during treatment.
The following is a list of conditions that benefit from this type of treatment:
• Failed back surgery syndromes
• Disc Herniation / Ruptured Disc / Bulging Disc / Herniated Disc
• Sciatica / Leg pain
• Whiplash injuries
• Stenosis
• Arm Pain
• Neck Pain
• Failed course of Steroid Injections
• Chemical Radiculitis
• Spondylolisthesis
• Headache

At Grayson Chiropractic Associates, we don't just treat the pain that causes our patients to seek Chiropractic Care—we offer a complete wellness response that is a vital part of this therapy. Most of our patients find long-term relief or effective management of their pain when they complete our entire program of treatment. Treatment programs are customized to each patient's needs. Therapy sessions typically last less than 15 minutes, and transition from passive to active treatments according to patient response. Most patients feel pain relief with as few as five treatments and are released from active treatment after ten weeks. We also incorporate adjunctive therapies such as heat, muscle stimulation, ultrasound, and cold therapy - all of which assist in the rehabilitation process. Regular home exercise and periodic visits to our office help in maintaining spinal health and reduce the probability of reoccurrence.
Flexion/Distraction can make all the difference in removing and managing your pain permanently. Our goal is to not only help heal the disc, but to also enhance muscular control and support of the back and restore the body to its optimal health.